Products recommended in the post contain affiliate links. If you buy something through our posts, we may receive a commission at no extra charge to you.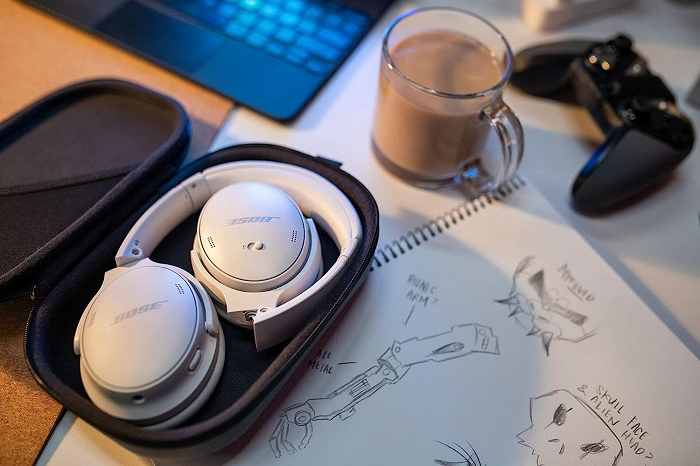 Cleaning your Bose headphones regularly is essential for maintaining optimal sound quality and extending their lifespan. In this comprehensive guide, we'll walk you through step-by-step instructions on how to clean your Bose headphones effectively, ensuring they remain in excellent condition. Follow these simple tips to keep your headphones looking and sounding their best!
Curious about the best method for keeping your Bose headphones sparkling? When I have to talk to you guys about Bose headphones in general, everyone knows what a huge fan I am. In my opinion, they represent the most significant breakthrough in headphone history. We have compiled the data, so take a look at this manual. In this article, we'll discuss the quickest and easiest way to clean your Bose headphones. By following these steps, you can ensure your headphones are hygienic, safe to use, and performing at their best.
How to Clean Your Bose Headphones The Easiest Way at House
Bose headphones are well-known for their exceptional sound quality and comfort. However, like any other piece of technology, they require regular care and maintenance to continue operating optimally. With regular use, it's inevitable that your headphones will get a bit dirty. This guide will walk you through how to clean your Bose headphones properly without causing any damage.
Materials Needed
Microfiber cloth
Soft-bristled brush or toothbrush
Isopropyl alcohol or headphone cleaning solution
Cotton swabs
Section 1: Step-by-Step Guide to Cleaning Your Bose Headphones
youtube source
 1: Start by unplugging your headphones. Cleaning electronic devices while they are connected to a power source can be dangerous. Moreover, water and electricity are not a good mix.
 2: Wipe down the headphone band and the outside of the ear cups using a microfiber cloth. The cloth will pick up and remove dust and dirt without scratching the surface of your Bose headphones.
3: Use a soft-bristled brush or toothbrush to gently clean the nooks and crannies of the headphones. Pay close attention to the area around the buttons, as dust and dirt can accumulate there.
4: Dip a cotton swab in a small amount of isopropyl alcohol or headphone cleaning solution. Make sure the cotton swab is only damp, not soaked. Carefully clean the ear cups and any other areas that need more attention.
 5: Once you're done cleaning, give your Bose headphones ample time to dry before you start using them again. Isopropyl alcohol dries quickly, but it's better to be safe than sorry.
Note: It's crucial not to use any harsh chemicals or abrasive materials when cleaning your headphones. This can damage the exterior and potentially harm the electronics inside.
Section 2: Cleaning the Ear Cushions
Remove the ear cushions gently by rotating them counterclockwise or following the manufacturer's instructions.
Using a soft lint-free cloth, wipe away any visible dirt or debris from the ear cushions.
If the ear cushions are removable and washable, follow the manufacturer's instructions for cleaning. Use mild soap and water, and make sure they are completely dry before reattaching.
If the ear cushions are not washable, dampen a cloth with a small amount of mild soap and gently wipe the cushions. Avoid getting excess moisture on the headphones.
removing ear cushions, lint-free cloth, visible dirt, removable ear cushions, washable ear cushions, mild soap, damp cloth, excess moisture
Section 3: Cleaning the Headband and Outer Shell
Dampen a soft lint-free cloth with a mild soap and water solution or a headphone-safe cleaning solution.
Gently wipe the headband and outer shell of the headphones to remove any dirt, oil, or smudges. Avoid applying excessive pressure to prevent damage.
For stubborn stains or grime, use a cotton swab dipped in isopropyl alcohol to carefully clean the affected areas. Be cautious not to use too much alcohol or let it come into contact with sensitive parts.
 headband, outer shell, mild soap and water solution, headphone-safe cleaning solution, dirt, oil, smudges, excessive pressure, stubborn stains, grime, cotton swab, isopropyl alcohol, sensitive parts
Section 4: Cleaning the Speaker Mesh and Ports
Examine the speaker mesh and ports for accumulated dust, debris, or earwax buildup.
Use a clean, dry toothbrush with soft bristles to gently brush away any visible dirt or dust from the speaker mesh. Be careful not to apply too much pressure or damage the mesh.
For cleaning the ports, using compressed air can blow out any dust or debris. Alternatively, a cotton swab lightly moistened with isopropyl alcohol can be used to clean the ports. Ensure the alcohol has evaporated completely before using the headphones again.
 speaker mesh, ports, accumulated dust, debris, earwax buildup, toothbrush, soft bristles, visible dirt, dust, pressure, compressed air can, cotton swab, and isopropyl alcohol, evaporated completely
Section 5: Drying and Reassembling
After cleaning, allow all components of the headphones to air dry completely before reassembling them.
Ensure that no moisture remains on the headphones or their components to avoid potential damage.
Once dry, reattach the
How To Clean Bose Headphones The Easiest Way FAQs
How do I improve the sound of my Bose headphones?
Check the EQ settings on your Bluetooth device. On the device, try setting the EQ to "off" or "flat" and disable any other audio playback adjustments (e.g. loudness, compression, reverb, etc.). These settings are usually found in the device's sound settings or in the settings of the app used to play the sound.t
How do I clean my Bose wireless headphones?
Remove the cushion as described in Replacing the headband cushion on your headset. Place the cushion in a solution of water and a mild detergent. Allow the cushion to air dry, then reattach.
How do I fix my Bose headphones from water?
The product is designed to withstand splashes of water, however, it is not water-proof and is not meant to be submerged in water. If the product encounters excess water, soak up any visible water with a cloth, then allow adequate drying time. Re-test the product after it has had time to dry.
How do you clean a headphone microphone?
To disinfect miniature and subminiature lavaliers and headset microphones, use a cloth moistened sparingly with an isopropyl alcohol and water solution* to wipe them down on their surface. This also applies to headsets, clips, booms, grids, and adapters.
Conclusion
Keeping your Bose headphones clean is a simple yet essential maintenance task. With this quick and easy guide, you can ensure that your headphones continue to deliver top-notch sound and perform at their best. Regular cleaning can also prolong the lifespan of your headphones, making them a worthy investment.
Keywords: Clean Bose Headphones, Bose Headphones Cleaning Guide, Bose Headphones Maintenance
Remember, investing a few minutes in cleaning your headphones can significantly improve your listening experience. So, keep this guide handy and your headphones will thank you for it!